Coronavirus - everything you need to know
Latest news and advice from Remus Management
Resident's letter 30.03.20
Or read it HERE
---
Our steps to help residents and staff:
Following the latest government advice for UK employers, some of our staff are now working from home, having implemented all necessary IT systems to ensure that residents receive continuation of service.
We are suggesting to clients that AGMs and resident meetings are postponed in line with advice on maintaining social distance, we will keep communication channels open via conference calls where necessary.
Where developments have site staff we will be keeping in touch with staff on a regular basis to provide them with as much support as possible and reviewing their duties according to current guidelines.
It is possible that there may be some disruption to the Royal Mail postal system in the coming months. To avoid any potential missed, or delayed mail we suggest that if you haven't already provided us with an email address, that you do so by supplying your details on our 'Go Paperless' page so that we can update your correspondence preferences.
SITE STAFF
Our Site staff have been issued with PPE and instructions on correct usage from the H&S team in this video: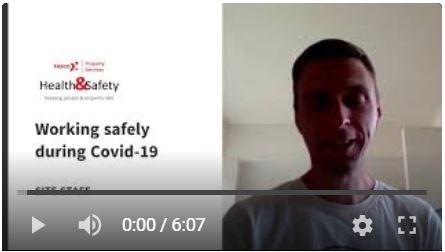 Our Site Staff Safety Pack is available to download from THIS PAGE
---
How to make working from home, work for you - read our top tips
---
What can I do to avoid catching or spreading the virus?
Following these 3 government guidelines will help to prevent the spread of germs:
CATCH IT Germs spread easily. Always carry tissues and use them to catch your cough or sneeze.
BIN IT Germs can live for several hours on tissues. Dispose of your tissue as soon as possible.
KILL IT Hands can transfer germs to every surface you touch. Clean your hands as soon as you can.
---
What if I have the symptoms?
All the latest advice, should you or a member of your household show symptoms of Covid-19, can be found on the NHS 111 website. 
---
Be mindful of what you flush!
With more people self-isolating or working at home added pressure on waste management systems can be avoided.
Please do not flush any of the following:
Tissues
Wet wipes
Kitchen roll
Makeup removal wipes
Sanitary products
Contact lenses
Dental Floss
Medicines
Condoms
---
Useful links to further information:
Useful links:
NHS guidelines on wellbeing - Every Mind Matters
How to stay safe World Health Organisation (WHO)
Activities during lockdown (BBC)
---
What should I do if there has been a confirmed case of Covid-19? 
Site Staff – Contact your Property Manager 
Property Managers – Contact the client and ask if they want to increase the frequency of cleaning within the communal areas
Maintenance – We will continue to maintain your property following appropriate legislation. All our contractors will follow government guidelines about social distancing, to minimise risk. If you have any questions about contractors working within your property please contact H&S@fexcopropertyservices.co.uk
Need to get in touch with our H&S team, please use the form below: